Wouldn't it be great if there were a procedure that could give you all the advantages of fixed dentures without the downsides? There's something you need to know about. There's now a type of permanent denture that can work great for you with less cost, less time in the chair and less healing time too.
What could be better?
Fixed Dentures Are A Step Up From Removable Dentures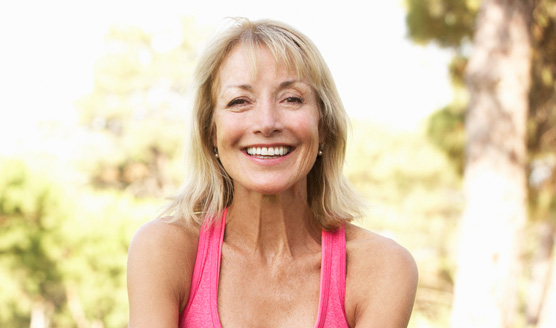 With removable dentures, the dental prosthesis is held in place by any teeth you have remaining as well as the ridge of gums in the areas where teeth have been lost. For decades, this has worked fairly well – and this denture type allows you to remove the dentures whenever you want. Permanent dentures fit better and don't have to be removed, so they're considered by many to be superior to removable dentures. But they have disadvantages, including cost, uncomfortable adhesives, or lengthy recovery time from the dental implants necessary for support.
Implants are titanium screws that go into the jawbone to replace teeth that are missing. They can replace a single tooth or several. Once the implanted post has healed and integrated with the bone – which may require bone grafting if you have any bone loss – then a crown or bridge is placed on top of it and the restoration is complete. When there are no natural teeth, several implants can support a whole arch of teeth. But that costs a lot and involves extensive treatment.
Or at least it did in the past.
Get The Benefits Of Fixed Dentures With No Downside
The primary benefit of permanent dentures is that they are more stable than removable dentures. That means you can wear them with more confidence. That's especially true with full bottom dentures, which are often unstable without teeth to which to attach them or implants to which to anchor them.
For some people, unsupported plates are simply impossible to wear because the jaw ridge have worn down too much, and implant-supported dental implants can make a huge difference for these people.
But fixed dentures cost a lot of money and involve several lengthy dental office visits for possible bone grafts and to set the implants. With the All-on-4 procedure, however, a full set of dentures can be mounted on four posts inserted during a single dental visit.
With All-on-4 fixed dentures, the four small implants don't require as much healing time as traditional implants. That's because the back implants are longer than usual and angled so that they can be set into sturdy bone. No bone grafting is necessary, simplifying the whole process.
Since things are simpler, you pay less and heal quicker. And here's what's even more amazing: you leave with usable teeth the same day.
Contact Us For More About All-on-4 Fixed Dentures
Of course, not everyone is a candidate for All-on-4 restoration. But if you're missing all your teeth on the top or bottom – or both – and want to get permanent dentures with less expense and a shorter healing time, you owe it to yourself to consider All-on-4 fixed dentures.
We're experts in All-on-4 implant-supported dentures and today's other modern implant choices too. Contact us now and let us explain the many additional benefits of All-on-4 fixed dentures and the other procedures you may want to consider. No matter your situation, there's a modern solution that will serve you well.
In dentistry as in everything else, times have changed. You now have more options than ever, including All-on-4 fixed dentures as well as small single-tooth dental implants, bridges that don't cause as much damage to surrounding teeth and more. In short, we have a solution to your problem of missing teeth, just give us a call at (619) 640-5100.