Sometimes shortened to MDI, Mini Dental implants have revolutionized the idea of dental implants. Traditional dental implants call for invasive surgery, bone grafts, and a series of office visits. MDIs do away with the surgery and can be done in a single visit. MDI are primarily used to stabilize dentures and other dental appliances firmly in place.
How They Work
MDIs are tiny titanium implants made with calcium phosphate and designed to replace the natural tooth root with faster healing times than traditional implants. The end of the implant is round and fits into a retaining mechanism. These structures hold the denture firmly in place just above the gums. The implants are able to stand up under significant force.
Advantages of MDIs
MDIs offer a great option for patients who have trouble with dentures, but wish to avoid invasive dental surgery. One of the big advantages of MDIs is that they can be used in patients with extensive bone loss, which can make larger implants impossible to place.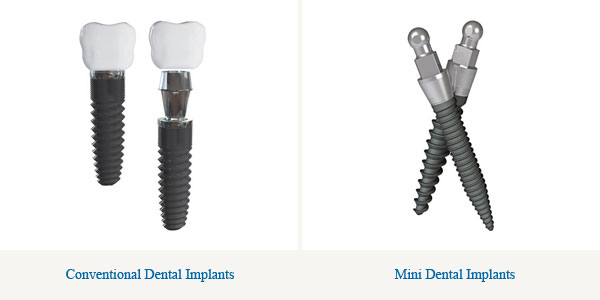 Depending on the amount and condition of the bone, as many as four mini implants can be placed at one time, without surgery. The invasive surgery and multiple visits required for traditional implants makes them considerably more expensive than newer mini implants.
Other advantages of MDIs include:
Clearer speech
Easier chewing
Easier cleaning
Better fitting dentures
Greater comfort
Longer lasting
No adhesives
Less food stuck under dentures
No slipping
Permanent results
How Mini Implants are Placed
Placement of mini implants typically takes about an hour or less. To stabilize lower dentures, four implants are placed about 5mm apart. Prior to the procedure, the dentist will likely use certain diagnostic tools to help determine optimal placement.
Placing the implants is done with local anesthetic. After the area is adequately numb, tiny holes are drilled into the jawbone at each implant locations. The implants are screwed into each hole and tightened down. Special tools are used to ensure the implants are tightly in place and fully stabilized.
Once the implants are in place, the dentures are mapped with the precise locations of the implants, then sent to a lab for drilling. A small rubber o-ring on each implant snaps into corresponding holes in the denture. Once in place, the denture rests comfortably and securely just millimeters above the gums.
Most patients require no stitches and experience no post-procedure discomfort. Eating is possible immediately after the procedure, though tough foods should be avoided for a day or two. The denture is easy to remove and clean as desired.
To find out more about MDIs and whether they are a good option for you, call (619) 640-5100 today for a free evaluation appointment.